ABOUT
About
Flybags™ were the first TSA-compliant travel products designed to bring joy back to your travel experience. Our sturdy, clear, zip-top travel bags and leak-proof, squishy silicone bottles make it COOL to COMPLY
Travels Stats
Fun Facts
Passengers screened by TSA in 2015 (in MM)
Bags screened by TSA in 2015 (in MM)
Firearms discovered by TSA at US airport checkpoints in 2015
Colognes confiscated while in a Flybag™
Testimonials
Purchased this to replace one I lost in SFO. Didn't want to return to zip lock bags as this is great quality for a road warrior.
I bought these for a trip to Cancun and all we took was carry on. These were a life saver made it so easy just to take out of my bag so they could see. Would recommend.
I fly an average of once a week for work. The FlyBag has pretty much saved my sanity.
CONTACT
Please do not hesitate to contact us with any questions, concerns or dealer inquiries regarding our products

PRODUCTS
3-oz Bottles
TSA compliant
Leak-proof lids
FDA approved & BPA free
Easy to fill and clean
TSA Bag
Clear, 1-Quart, TSA-Compliant
Stainless Zipper-Top Travel Bag
Azo-Free Vinyl Composition with Gray Stitched Banding
Includes three 3-oz Refillable BPA-free Silicone Bottles
Earplugs
Soft
Squishy
Noice reducing
Easy to Clean
Custom Flybags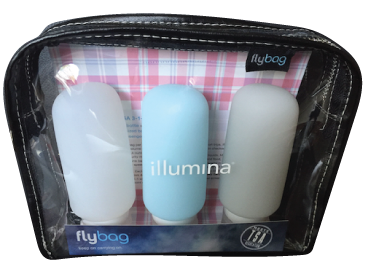 Did you know it is possible to customize your very own Flybag?
For minimum order quantities, pricing and customization options, please complete the form below.
Enter your name and email address to download "Custom-Flybag-Brochure"